EH Bellman
Location, data and EH. A better way forward.
EH Bellman - February.13.2018
Black Box Dilemma
For many homeowners their septic system is a black box that is out of sight and out of mind. This is true until something undesirable happens, which can be a costly opportunity to learn about their septic system, not to mention the impact to the environment and public health. In this post we will look at how a digital septic system inventory and technology can be used to improve outreach and education efforts, improve access to system information and support operations and maintenance (O&M) tasks.
A digital septic system inventory is created from good data, which includes digital, to scale site plans and information about the system, such as tank size, drain field type, inspection ports, maintenance history/schedule and more. To dive deeper into digital site plans or good data jump to these previous posts – Digital Site Plans 101 and The Case For Good Data.
The real benefit of developing a digital inventory is that it can be used with technology to improve access to septic system site plans and information, automate outreach and educational efforts, and complement O&M routines through tracking, reporting and automated notifications to the homeowner.
Improving Access
Starting at the base level, making septic system information available to homeowners makes it easier for them to understand the treatment system on their property. Digital site plans, that are to scale and mapped on the property where they are located in the real world also make it easier for homeowners, Realtors and contractors to understand 'where' system components are located and discover information about each component.
Making this information available in a format that is easy to access and understand is also important. For example, the image below displays a property report generated from FetchEH that includes the digital site plan, system information and O&M information. Reports like the one shown here can also include links to educational resources, regulations and more.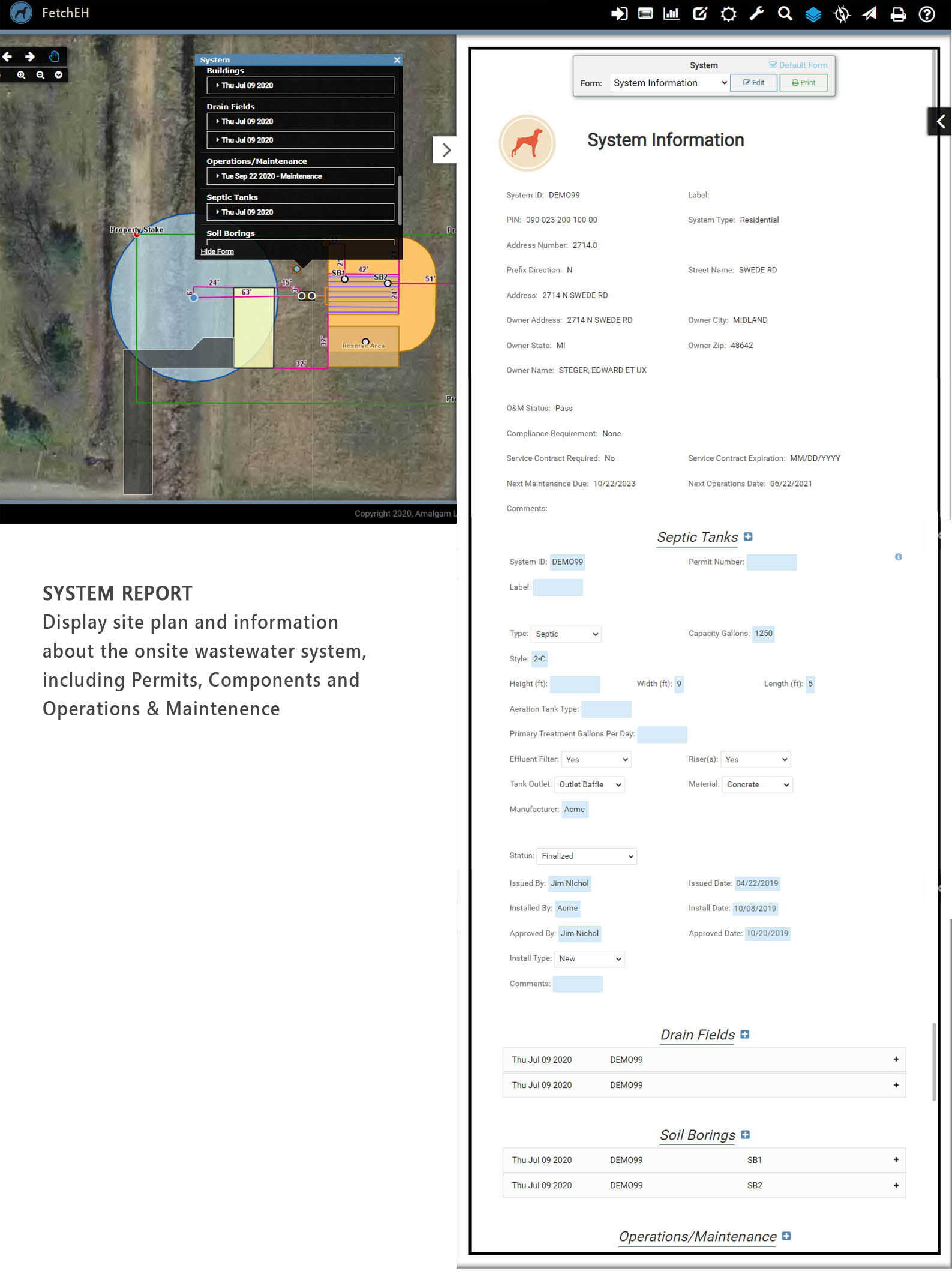 System Reports
Outreach, Education and Operations & Maintenance
Going a step further, a digital inventory can be used with other data, such as parcels, to automate outreach to homeowners, including generating mailing lists to send homeowners information about their systems, educational resources and maintenance recommendations or requirements where O&M regulations are in place. These materials can also encourage homeowners to visit online mapping services, like FetchEH, to view their site plan and system information, create a report and even sign up for an account to receive electronic outreach and maintenance reminders.
Automating these workflows is especially useful where O&M regulations are in place, requiring tracking, frequent reporting and notifying owners about system maintenance or routine inspections. However, even in communities without O&M regulations this process can be used to educate homeowners about their system and proper care of it.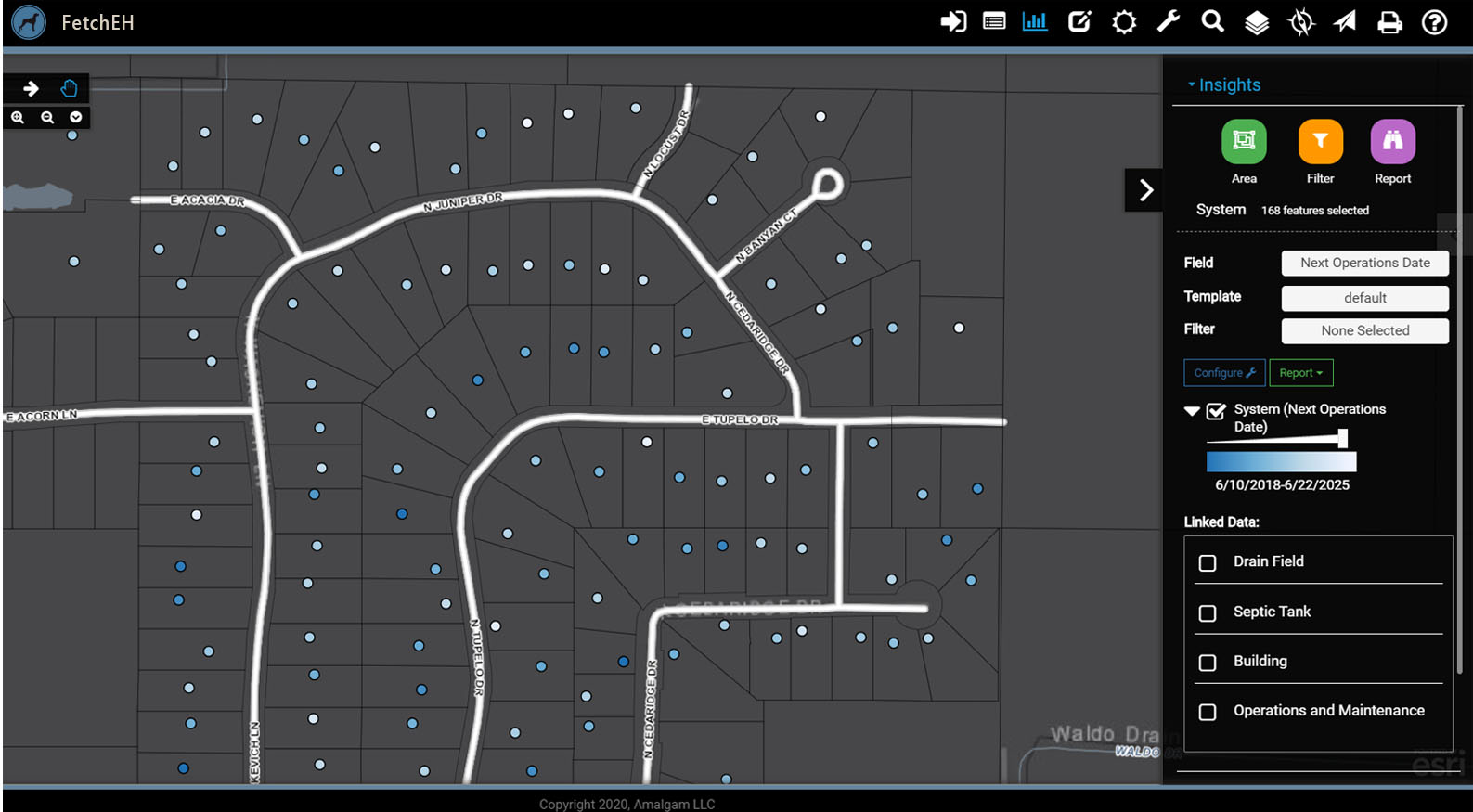 Next Operations Inspection Date
Helping homeowners become more familiar with their septic system and routine maintenance is not an easy task. For many regulators, outreach programs are underfunded, or funded through grants that eventually get used up. The result is a fragmented approach that is inconsistent, inefficient and is not tied into other management tasks, like O&M.
Using digital inventories and technology can help regulators improve homeowner access to site plans and system information, conduct outreach and education efforts in a consistent and efficient manner, and support management tasks, such as tracking, reporting and sending notifications, linked to O&M regulations. The hardest part is simply getting started and moving towards using digital septic system data for more than managing permit transactions.